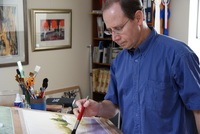 I have been painting since 1998 focusing on Watercolour.
My paintings cover a wide range of subjects including portraits ,seascapes, landscape, flowers, wildlife and townscapes. I do not feel inclined to specialise in any one category as any subject can make an interesting work of art.
I have been exhibiting at regional and National art shows over this period at which I have sold many paintings and received many of awards. In 2009 I won the prestigious John Copes Watercolour Prize.
I have also also exhibited and sold paintings at other major exhibitions such as the Sydney Royal Agricultural Easter Show and the Blacktown Art Show.
The Australian Artist Magazine has published my articles on two occasions.
I am a member of the Macquarie Towns Art Society as well as the Nepean Art Society at which I teach watercolour and run regular workshops.
I have created this site so it can act as a resource for my students and as a repository of some of the things I have learnt about watercolor.